Also known as: LED-stripes integrated in laminated glass, LED in glass, illuminated led glass, laminated Glassiled.

Glass comes alive with an interplay of light and color
Led in glass is a glass that comes alive with an interplay of light and colour. Led in glass is a system offering infinite possibilities for indoor and outdoor use, creating dynamic and interactive architectures and ambiances, and highlighting design and the creation of communication structures (walls, media facades).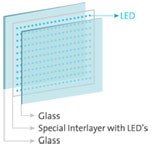 ASSETS:
Assistance in the conceptualization and programming of possible set ups
Simplicity of the remote control design and preprogramming
Simplified maintenance.
AND INTRINSIC ADVANTAGES:
Instantaneous
Homogeneous lighting
Relative transparency while in the 'off' position.
Functions and applications
In bringing glass to life by using lighting and color both during the day as well as at night - Led in glass uses a variety of indoor supports (vertical separation, floors, ceilings, doors, furnishings, fitting rooms...) and outdoor supports (store windows, double glazed walls, facade bay windows, urban furnishings...).
And equally in:
Shopping centers, department stores, showrooms and boutiques
Bars, discotheques, restaurants, hotels and cruise ships
Museums, galleries, exhibition stands and scenic decorations
Palliative care units, doctor's and dentists offices, fitness centers and spas
Stadiums, gymnasiums, pools and sports centers
Theaters, cinemas, auditoriums and convention centers
Corporate headquarters, agencies and administration buildings
Train stations, airport terminals, toll booths, bus stops.
Download exemples led in glass