Also known as: laminated vanceva glass, laminated colored foil pvb glass, stadip Vanceva, stratebel Vanceva.





Vanceva brings color to traditional benefits of laminated glass
Colored laminated glass made with Vanceva products provides solutions to manyarchitectural design challenges. Colored laminated glass is the only glass that hasdurability, high performance and multi-functional benefits while the aestheticappearance of the glass stays intact.
The color layer system Vanceva can create a wide variety of colors and moods. Vanceva glass is particularly suitable for use in windows, atriums, skylights, partitions and conference rooms. The designs are beautiful and expressive, with distinctive hues that vary from subtle to extreme. The colored film layers of Vanceva are based on red, yellow, blue, black and white and can be combined up to four layers. In this way it can create more than 1000 differentcolors, ranging from neutral, soft off-white and brown tones to vibrant, bright purpleand orange tones. These chosen layers are dependent by the choice for the final color of the glass.
The layered aspect provides safety and can easily be combined with burglary-proof, bullet-proof, sound-proofing and UV-resistant safety glass.
How the System Works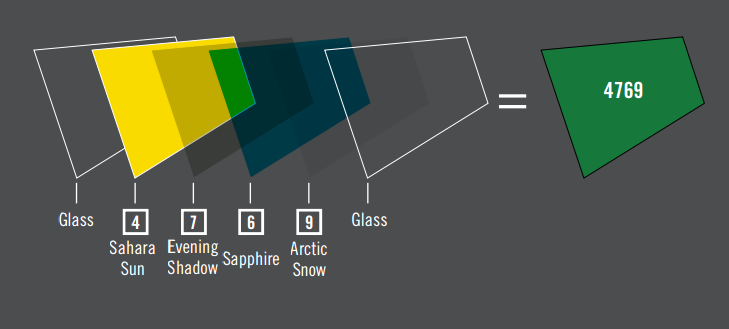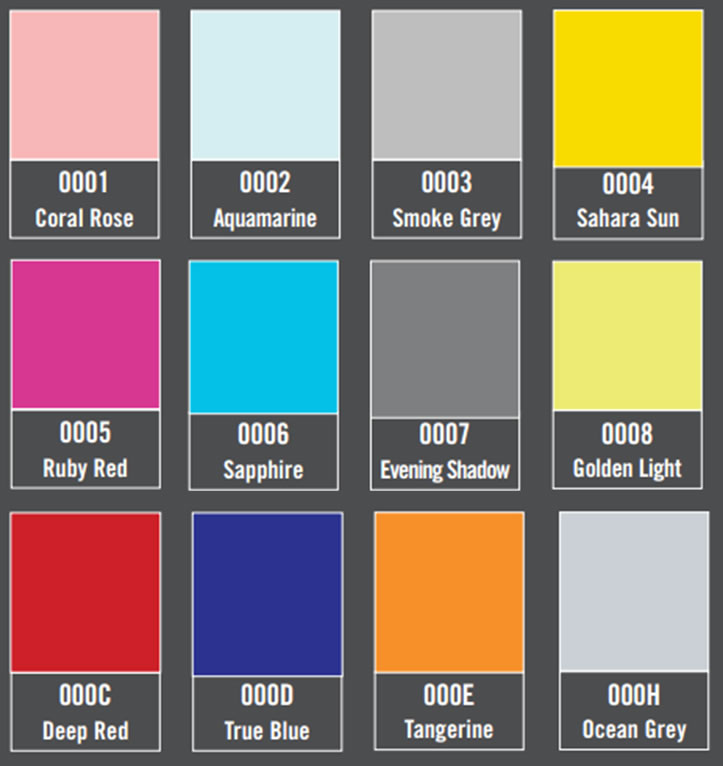 The Vanceva color system is based on a foundational palette of 4 key colors (pink, blue, grey and yellow) in two light transmissions to create a base palette of 8 colors. Similar to the CMYK color system most often used in printing, the Vanceva color system allows Architects, Designers and Glass Fabricators the ability to layer several different color interlayers together, in different intensity levels, to create thousands of color possibilities.
Color Formulation Codes
One to four sheets of Vanceva color interlayer is typically used to construct custom colored laminated glass. Since the maximum number of interlayers is four, each Vanceva color has been assigned a four-digit number. Each number or letter represents a layer from the foundational palette used to create all Vanceva color interlayer combinations. The illustration on this page details an example of a four layer Vanceva color code, and each corresponding color associated with the final glass make up. An example of a one layer combination would be Vanceva 0006, while an example of a two layer color combination would be Vanceva 0026, etc.
Common VANCEVA applications
Vertical Safety Glazing
Security Glazing
Bullet-Resistant Glazing
Bomb Blast - Resistant Glazing
Acoustic Glazing
Glazing for Solar Gain Reduction
Vertical Safety Glazing: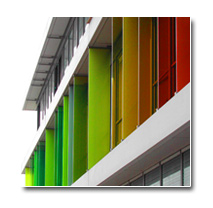 Laminated glass made with Vanceva PVB color interlayer breaks safely. While the glass may crack under impact, it typically remains integral. Glass splinters and sharp fragments tend to adhere to the plastic interlayer. This is in contrast to annealed glass, which fractures easily into long, sharp-edged shards, or tempered glass which breaks into pieces that may reduce cutting or piercing injuries, but still has the predominance to vacate the frame once broken. Security Glazing: Vanceva color PVB interlayer can effectively help protect people and property without compromising design aesthetics. The resilient interlayer resists forced entry even from repeated blows from hand-held implements such as hammers, crowbars and bricks. Laminated glass made with Vanceva color interlayers cannot be cut from one side, denying burglars the use of glass cutters for quiet entry. For specialized high-security applications, laminated glass of varying configurations can provide ballistic and blast resistance.
Bullet-Resistant Glazing: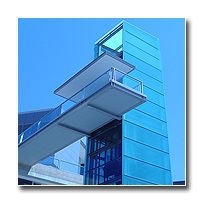 With the appropriate configurations, laminated security glazing made with Vanceva color interlayers can successfully resist penetration of bullets and reduce the amount of impact-induced spall (fragmentation from the protected side of the glazing) as a result of ballistic attacks. Bomb Blast-Resistant Glazing: Laminated security glazing using Vanceva color interlayer, in specifically designed window, doors and skylight systems, can provide impact protection that may substantially reduce injury from direct and indirect blast shock wave effects (over-pressures) and can significantly reduce the amount flying or falling glass in bomb attacks.
Acoustic Glazing: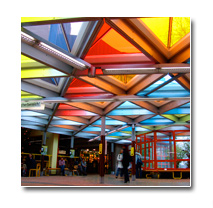 Glass can allow the transmittance of sound as well as light into a building's interior. Laminated glass with Vanceva color interlayer can effectively reduce the transmittance of noise between spaces and from outside to inside better than conventional glazing systems. The dampening characteristics of laminated glass can minimize the interference in classrooms, meetings, and general conversation caused by disruptive noise - from traffic and jet aircraft to office machinery and industrial equipment.
Reduced Solar Gain:
Laminate systems made with Vanceva color interlayer can help control solar heat gain and reduce cooling loads in commercial buildings. The interlayer absorbs energy in the ultraviolet (UV), visible and infrared wavelength spectrums and dissipates most of the absorbed energy to the outside. Vanceva filters out UV light and helps protect and preserve interior furnishings and fabrics, drapes and wall coverings, photographs and artwork from fading and deterioration.
Please note: Colors displayed in the online color studio are only shown as a representation of actual glass colors. Color is affected by light, and therefore cannot truly be matched electronically online. Colors displayed here should not be substituted for color matching with actual glass samples from your fabricator. Please order a sample to ensure you are pleased with your Vanceva color selection before ordering for your project.