Also known as: glass balustrades, glass staircase, laminated tempered glass.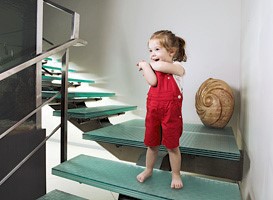 NGT FLOOR is a laminated safety glass to be used for floor tiles and steps. NGT FLOOR consists of two or more sheets of glass bonded together by one or more PVB films (polyvinyl butyral). For sensitive applications, it is possible to guarantee the privacy by using coatings with slip-resistance and / or with translucent PVB films, which may also include multicolored designs. If the glass is broken, the shards stick to the foil. By changing the number and the thickness of the components, laminated safety glass is formed in order to respond to the desired load.

NGT FLOOR is used for indoor applications but it is also possible to apply outside if the provided custom installation guidelines are followed.

NGT FLOOR may only be used for access by people and is not suitable for another permanent load than its own weight. The glazing that can be used depends on the number and type of bearings, the length / width ratio (l/w) and the type of building, which determines the required safety, where the tile is placed.
Residual Strength:
The highly tear-resistant interlayers keep the individual glass plates together, even after a mechanical failure. Reduced residual strength depends on the type of damage.
According to typical requirements NGT FLOOR is manufactured in three different types:
laminated safety glass with slip-resistance, partially transparent or translucent
laminated safety glass with anti-slip layer etching, partially transparent or satin
for external applications
laminated safety glass with slip-resistance and residual strength tested
Applications
skylight glazing
glass roofs
floors and stairs
bridges
platforms
terraces
Benefits
Transparency: NGT FLOOR makes it possible to create a transparent floor illuminating the lower floors
Stability after breakage: With glass breakage NGT FLOOR stays in its place and retains sufficient safety in anticipation of replacement
Protection against personal injury: Because NGT FLOOR is a laminated safety glass is, the glass fragments stick to the film with glass breakage
Anti-slip
Commodities NGT FLOOR can be composed of the following types of glass:
clear
extra clear
semi-tempered
colored throughout the mass
treated with a special liquid (treated side at the bottom)
sandblasted (treated side at the bottom)
with screen printing (only one component)
ornamental glass (figure side at the top)
with anti-slip (treated side at the top)