Also known as: anti limescale glass treatement, anti limecale protection, anti limescale glass, anti limescale showerglass, anti corrosive glass coating.


ShowerGuard is a type of glass specially developed for shower cubicles and having revolutionary properties when compared with conventional glass for shower separation panels. It is the only type of glass on the market that is permanently resistant against corrosion and exceptionally easy to clean. Conventional glass usually corrodes duet o hard water, heat effects, humidity and soap residues. Even cleaning agents may leave a spotted, stained or corroded glass surface which gives the surface a coarse and unsightly appearance.
With ShowerGuard, the glass surface facing the shower is protected by an ion-binding method during the manufacturing process. This patented technology is used to permanently seal the glass surface and allows lime stains to be easily wiped away. Unlike with applications that are sprayed on or rubbed in, but come off again sooner or later, the ShowerGuard surface is permanent.
In daily use, ShowerGuard does not require any special handling and there is no need for renewal of the coating.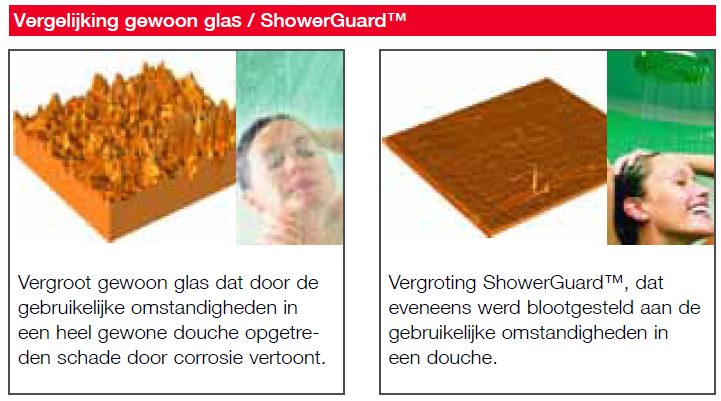 Cleaning
ShowerGuard does not require any special agents for cleaning and care, but can easily be cleaned with a damp cloth.
Engineering
Available as tempered 6 and 8mm, plane or cylindrically curved. Other thicknesses upon request.
Advantages
Easy-care glass: permanently corrosion-resistant - guaranteed for 10 years!
Less cleaning effort
Increase of the service life of the glass
Improvement in hygiene
High degree of transparency
Long-lasting brilliance like on the first day
Maintenance-free
Possible applications
Residential applications
Hotels
Holiday resorts
Hospitals
Nursing homes
Spa and sauna areas