Also known as: SPD smart glass, self-tinting dynamically variable glass, automatic solar control glass, switchable glass, obscure glass.

Progressive Technology based on Adjustable Light Valves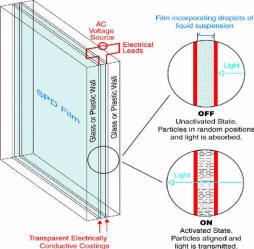 SPD-Smart Glass is the world's fastest-variable dynamic colour glazing technology. The only dimmable window technology that gives users the ability to control instantly and accurately the level of dark and bright. It allows exceptional control of light and solar transmission, which adds to the comfort of the user and the protection of interiors. It is available in both glass and lightweight polycarbonate substrates, SPD-Smart (TM) products - windows, skylights, doors, walls, roofs and much more. Its laminated glazing offers a distinctive combination of sustainability and safety. It can be controlled manually or automatically and is available in custom sizes and finished products for construction, renovation and 'retrofit' projects.
The glass switches in less than one second from transparent to colored, regardless of the size of the window.
This technology is the result of decades of research, development of film and film technology. This film can be laminated in a wide variety of glass or plastic panels with intelligent products manufactured with adjustable levels of transparency.

Benefits
SPD - smart glass allows to reduce the energy costs for buildings considerably.
Almost instant lighting control.
Control over the exact amount of light permitted.
Improved comfort and sheltered feeling for the user.
A large amount of light transmission levels
without being limited visibility.
Increasing safety.
99% reduction of ultraviolet radiation without fading the furnishing and protection against skin cancer.
Energy saving.
Exceptional optical qualities.
Reduction of equipment costs (HVAC).
No need of window decorations, curtains and sunblinds.
Cost comparison with standard sunblinds and/or other smart window technologies.
Sustainability.